SHOPPING MALL

OUR STORY OF SUCCESS

Address:
Dinar Street, Jubaila District, Basra, Iraq
Open Hours:
Daily, from 10:00 AM to 12:00 PM
Contacts:
(00964) 782 2122231 – (00964) 771 3303338
BASRA TIMES SQUARE MALL : THE FIRST MODERN SHOPPING CENTER IN BASRA. IT BRINGS A NEW BREEZE TO  BASRA ENVIRONMENT WITH ITS FULL ARCHITECTURE, SHOPPING AND ENTERTAINMENT CENTER. IT IS THE CENTER OF SOCIAL LIFE IN BASRA AND A NEW MEETING POINT WITH SPECIAL FEATURES. CUSTOMERS WILL ENJOY THE GLOBAL SHOPPING EXPERIENCE. THERE IS A GOOD RANGE OF INTERNATIONAL CUISINES  AND CAFES. VISITORS WILL BE ABLE TO SHARE GOOD AND SPECIAL TIMES WITH FRIENDS AFTER EXPERIENCE HAPPY SHOPPING.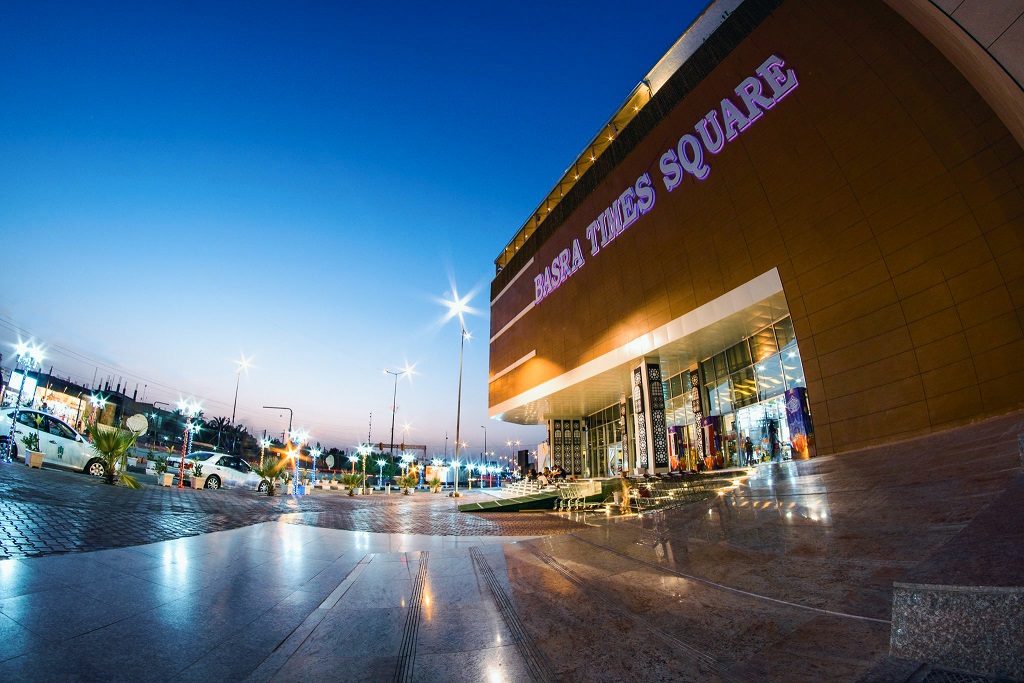 THE MAIN PHILOSOPHY OF TIMES SQUARE SHOPPING MALL IS:
TO BRING IN THE 'GLOBAL SHOPPING MALL VISION' INTO BASRA
TO INTRODUCE GLOBAL SHOPPING FORMATS AND INTERNATIONAL BRANDS TO BASRA  RESIDENTS AND VISITORS
TO CREATE SUCCESSFUL AND PROFITABLE BUSINESS WHICH WILL BE THE FIRST OF ITS KIND IN BASRA.
OUR MISSION IS TO CREATE A 'DESTINATION' RETAIL AREA :
WHICH WILL BE CALLED AS THE ''LANDMARK" OF BASRA RETAIL;
WHICH LEAVES THE COMPETITION FAR BEHIND BY ITS FIRST MOVERS' ADVANTAGE;
WHOSE KEY ATTRIBUTES ARE QUALITY, VARIETY AND HOSPITALITY,
WHICH CARRIES A 'BALANCED' RANGE OF PRODUCT AND SERVICE CATEGORIES TO CREATE A HIGH CUSTOMER TRAFFIC;
WHICH HOUSES LEADING ORGANIZATIONS AND GLOBAL BRAND NAMES THAT CREATE HIGH CUSTOMER LOYALTY.
WHERE THE SHOPPING WILL BE MORE THAN A PLEASURE WITH ITS TRENDY, MODERN , APPEALING , FASHIONABLE AND FRIENDLY ATMOSPHERE;
SHELTERING RESTAURANTS, CAFES, MOVIE THEATERS AND ITS  ACTIVITIES; IT WILL BECOME THE HEART OF BASRA'S SOCIAL LIFE;
WHICH WILL BECOME AN ATTRACTION POINT FOR BASRA PEOPLE, EXPATRIATES AND TOURISTS;
WHERE A WORLD STANDARD SHOPPING EXPERIENCE WILL BE PRESENT WITH NEW SERVICE PHILOSOPHIES;
WHICH IS 'PROFITABLE' BOTH FOR TENANTS AND TIMES SQUARE SHOPPING MALL.
THE CITY IS LOCATED ALONG THE SHATT AL-ARAB NEAR THE ARABIC GULF, AND 545 KILOMETERS FROM BAGHDAD, IRAQ'S CAPITAL AND THE LARGEST CITY.
The Shatt-Al-Arab and Basra waterways define the eastern and western borders of Basra,respectively.
The city is penetrated by a complex network of canals and streams;vital for irrigation and other agricultural use.
These canals were once used to transport goods and people throughout the city.
A network of canals flowed through the city, giving it the nickname " The Venice of the Middle East" at least at high tide.
The area surrounding Basra has substantial large petroleum resources and many oil wells.
The city also has an international airport, with service inside and outside Iraq.
It has the world's 3rd largest oil reserves estimated to be more 115 billion barrels most of it from Basra.
80% of Basra's oil bearing fields is unexplored.
Basra Times Square location is very strategic from a commercial and touristic point of view where it forms one of the main essential locations of Basra City.
It is about 1200m from Shatt Al arab river and 14 km from International Airport .
Al Jubaila area is one of the commercially crowded areas in Basra which provides a high purchasing potential.
This location provided an easiness in the traffic since it is situated on one of the main roads of Basra that links all the important areas of the city.
In addition, there is an internal lane road alongside Basra Times Square of 10m width which provides additional traffic flexibility.
TIMES SQUARE'S MODEL ? SIZEWISE; TIMES SQUARE SHOPPING MALL FITS IN COMMUNITY CENTER MODEL,
TIMES SQUARE'S MODEL
HOWEVER BEING THE FIRST AND THE MOST CENTRAL MALL IN BASRA; THE EXPECTATION OF CONSUMERS WOULD BE TO HAVE THE CHARACTERISTICS AND SHOP-MIX OF A 'REGIONAL MALL'. THE CONCEPT AND THE SHOP MIX ARE DEVELOPED WITHIN THIS PERSPECTIVE.
THE MAIN PHILOSOPHY OF TIMES SQUARE SHOPPING MALL IS THE COMBINATION OF :
RETAIL + ENTERTAINMENT
RETAILTAINMENT
THE PRINCIPLE BEHIND RETAILTAINMENT IS THAT SHOPPING SHOULDN'T BE SEEN AS A TASK OR A CHORE, BUT RATHER AN EXPERIENCE TO BE ENJOYED!
SOCIAL INTERACTION IS VERY IMPORTANT FOR HUMAN BEINGS AND THE VAST MAJORITY OF PEOPLE WANT AN  ATMOSPHERE WITH SHOPPING AND FUN TOGETHER AND ALL TACTILE SCENARIOS OF TOUCH, FEEL AND SMELL.
SHOPPING WILL BE AS MUCH AN EMOTIONAL EXPERIENCE AS AN EXERCISE IN ECONOMICS.
RETAILTAINMENT
TIMES SQUARE; THE FIRST AND THE MODERN SHOPPING MALL OF BASRA WILL BRING A FRESH BREEZE TO BASRA'S RETAIL ENVIRONMENT WITH ITS BOTH PERFECT ARCHITECTURE AND SHOPPING & ENTERTAINMENT CENTER.
WILL BECOME THE CENTER OF BASRA'S SOCIAL LIFE AND A NEW MEETING POINT WITH ITS  SPECIAL FEATURES.
THE CUSTOMERS WILL ENJOY THE WORLD STANDARD SHOPPING EXPERIENCE AND IT WILL BECOME THE MOST " IN " LOCATION OF BASRA  .
A CREATIVE ,WELCOMING, UNIQUE, COMFORTABLE, CHARMING AND TRENDY ATMOSPHERE THAT ENCOURAGES VISITORS TO SPEND MORE TIME
NEW TRENDS AND FUN
A BALANCED COMBINATION OF INTERNATIONAL BRANDS TO MEET THE NEEDS OF TARGET CUSTOMERS.
A GOOD SELECTION OF WORLD CUISINES AND CAFES. VISITORS WILL BE SHARING GOOD AND SPECIAL TIMES WITH FRIENDS RIGHT AFTER A HAPPILY SHOPPING EXPERIENCE.
NEW SERVICE PHILOSOPHIES WILL MAKE THE VISITORS FEEL VERY SPECIAL.
THE TARGET CUSTOMER GROUP OF TIMES SQUARE ARE; WOMEN, MEN, YOUTH AND CHILDREN, WHO ARE LOCAL PEOPLE, EXPATRIATES , AND TOURISTS. THE TARGET CUSTOMER GROUP WILL BE COMPOSED OF PEOPLE WHO ;
ARE OPEN TO CHANGES IN SHOPPING HABITS.
ARE LOOKING FOR THE CONVENIENCE AND VARIETY, PRESENTED BY THE MALLS,
WOULD LIKE TO COVER ALL THEIR NEEDS AT ONE POINT,
PREFER THE SPECIAL LOCATIONS TO ORDINARY ONES,
LIKE TO SHOP TOGETHER AS A WHOLE FAMILY.
BEING THE FIRST MALL IN BASRA, TIMES SQUARE WILL HOLD AN OUTSTANDING BRAND MIX AND TARGET A WIDE INCOME GROUP, STARTING FROM C PLUS UP TO A MINUS.
FUN STATS

WHY PEOPLE CHOOSE OUR MALL